In-Character Information:
~Name~
Laureleiden "Laurel" Winte'Shrine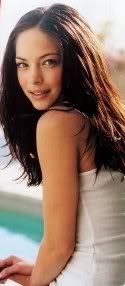 "Hath in her veins, to beat and run/ The glad indomitable sea/ The strong white sun."

~Rank~
Ensign (ENS)

~Gender~
Female

~Physical Description~
Height: 5'5"
Weight: 125 lbs.
Eyes: Pale Green
Hair: Deep Brown

Laurel could indeed be considered beautiful, and enchantingly so: She is almost undine-like in her appearance; with her svelte, lithe frame and a dark, ink stroke of hair falling in a midnight wave past her shoulders and down her back. Laurel prefers, however, to keep her hair up in an elaborately braided crown about her head while she is on duty.

~Primary Position~
Communications Officer

~Weapon/Technology of Choice~
-

~Location~
Annihilation, Second Fleet

~Bio~
Born: 32 GR (22 Years of Age)


Soft, verdant eyes and a shy demeanor belie the military excellence and contemplative nature of Laurel Winte'Shrine, a twenty-three year old hailing from a noble house on Neelanon. Her appearance and mannerisms do, however, allude to a tender upbringing within an aristocratic family, the youngest of two daughters. Laurel and her elder sister, Euphemede, were inseparable as young girls; at nineteen, Euphemede's ship had been intercepted on her way to a betrothal commencement ceremony by an unknown party and immediately lost all communications with the family. As distinguished diplomats, Laurel's parents had spared no expense or influence in finding their daughter, but to no avail.

It was around this time that at sixteen Laurel had begun to hear her sister speaking to her, as well as other voices, and began to have fantastic dreams: Beaches with sand like sugar and deep, starlit oceans full of jeweled and candy-bright sea creatures; horrific, nightmare realities full of anguish and endless cries of torment. Laurel eventually deteriorated into a fragile mental state, unsure if the voices talking within her mind were real or not, and began answering to them all the same. Fearing for their daughter, she was sequestered away in isolation at the urging of her parents into her personal apartments for three long years. Laurel emerged at nineteen as the stoic, ethereal woman that she is today. Little did the young woman realize that the voices and images that has so plagued her was indeed the very catalyst that had preserved her sanity and gave her the hope- even in its smallest measure -that Euphemede may very well still be alive somewhere.

The only outside contact Laurel had in seclusion were her small group tutors. One in particular was an Imperial loyalist, and was thrilled that the bright, articulate young woman showed great enthusiasm to learn about their various wars, culture, and sciences, to which he eagerly obliged. She had immediately taken an interest in the history of the Galactic Empire, its downfall, and the fascinating figures that had helped shaped what it had become at present. Secretly, Laurel had come to idolize the Imperial Officer Captain Juno Eclipse at the peak of her illustrious career, before her sudden insurrection and betrayal to the prestigious Darth Vader and consequently, Emperor Palpatine and the Empire in its entirety. Months after being released from confinement, the young noble enlisted in the Fleet Academy, graduating with high honors several years afterward and was sent to the second fleet for her first duty station.

Her parents, at first, were concerned about their daughter's military and political endeavors, but were grateful of the purpose and strength that it gave her, and she seemed fully recovered from her delusions; They were not, however, even remotely aware of how the three years of seclusion had so deeply affected their daughter psychologically, or the possibility that she was, in fact, an individual bestowed with Force sensitivity. Laurel does keep casual contact with her parents, and in return, often receives small gifts of favored foods or traditional clothing from the estate. Though the relationship with her parents has improved since leaving for the Imperial Academy, she does not know if she could ever truly forgive them, despite their best intentions for what they did. As the last heir of House Winte'Shrine, she knows that ultimately she will be expected to return to civilian life to marry and eventually carry on the family name.

Following the event of the Midsummer Imperial Ball thrown in the Federation's honor in her ancestral home, Laurel had been informed not of only her latent Force Sensitivities, but that of the whereabouts of her sister, who was, indeed, alive and in confinement as a test subject for a yet unknown organization. The two sisters apparently possess a genetic anomaly that is of great interest to this organization, whom had even infiltrated the Ball in order to obtain evidence of Laurel possessing the trait. The entire experience had left as a much stronger individual, even going as far as to falsely announce her unsuitability for marriage so as to ruin any opportunity to be betrothed and deter her focus away from her goals.

The portrait of an aristocratic young woman is bestowed with an almost ethereal grace, and due to her rearing is well versed in the sciences, literature, as well as various languages and dialects. Laurel is also blessed with a phenomenal singing ability, though she would be anything but willing to perform if asked. She is more prone to maintaining a shy, quiet dignity about herself; unfortunately, her demeanor is often misinterpreted as one of contempt of condescension.

As of late, Laurel has been asserting herself in light of an event during the Imperial Ball. As such, she has become determined to arise through the ranks of the Federation, ultimately in the goal of being strong enough both physically and politically to wage a single-handed assault of those who have disgraced both her sister and herself.

The strange circumstances regarding her isolation in her ancestral home have made her incredibly wary of others and their intentions. The experience has also given her an aversion to being in physical contact with others, and possibly suffers from mild claustrophobia. She had once been consumed by the urge to run up and down the stairs of her first home away from Neelanon, and still tries to keep her windows open as much as possible in the attempt to truly convince herself that she is free to come and go as she pleases. She has become adept at limiting the "voices" within her mind when she is awake, but is still prone to vivid episodes whilst asleep or when distressed. Laurel has recently learned that she is, indeed, possessed of Force Sensitivity, and is currently trying to find a means in which to be trained to wield them effectively in secret. In the meantime, with the efforts of High Colonel Blitzkrieg, she hopes to, at the very least to be trained in advanced combat and marksmanship abilities.

On her personal time, Laurel is an avid reader, and has a great interest in collecting antiques, especially books and art in particular. She has an affinity for sweeter cuisine, some of favorites being tea, namana fruit, t'ill-t'ill, egg-seed, and especially figda, a favored treat from her youth.

Laurel prefers to wear the long, flowing robes that are common attire for the females of her household whilst in her apartments, similar to that of a hanbok or kimono in appearance. Her parents had taken to cutting her hair almost boyishly- short to discourage her from pulling it out while in isolation, and now as an adult keeps it as long as practically possible, preferring to have it long and loose where it terminates in the middle of her back.



Out of Character Information:
E-mail Address: amberamoena@gmail.com
Contact Info:
How did you find out about us?: Random browsing, curiosity :3